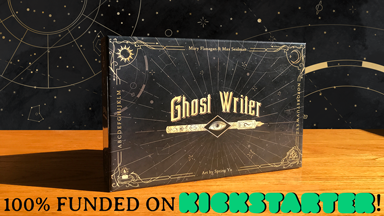 Ghost Writer, our spooky party word game, has officially funded on Kickstarter! Earlier this week we hit our $27,000 goal and are on track to hit a couple of stretch goals before the campaign ends later this evening!
We are extremely grateful for the Resonym community and the board game community as a whole for helping us bring this project to life. Ghost Writer was a unique challenge for us as it is our very first game that was entirely designed in quarantine. It is also a party game that requires at least 4 people to play— which right now isn't possible for many people. All this goes to say that we are extra appreciative of people funding this project as it gives us hope that someday it will be safe enough for us all to gather and play it together!
Ghost Writer's Kickstarter campaign ends at 9pm ET tonight. If you want the game arriving on your doorstep this August, then go back it now by following this link.